We've been downtown Raleigh residents since 2014. This means that we know the best of Raleigh, according to our standards of food, ambiance, and enjoyment, that is.
If you're new to Raleigh or visiting the area. It's a welcoming city, it's progressive (for the most part!) and as the capital of a gorgeous state, we think it's the best.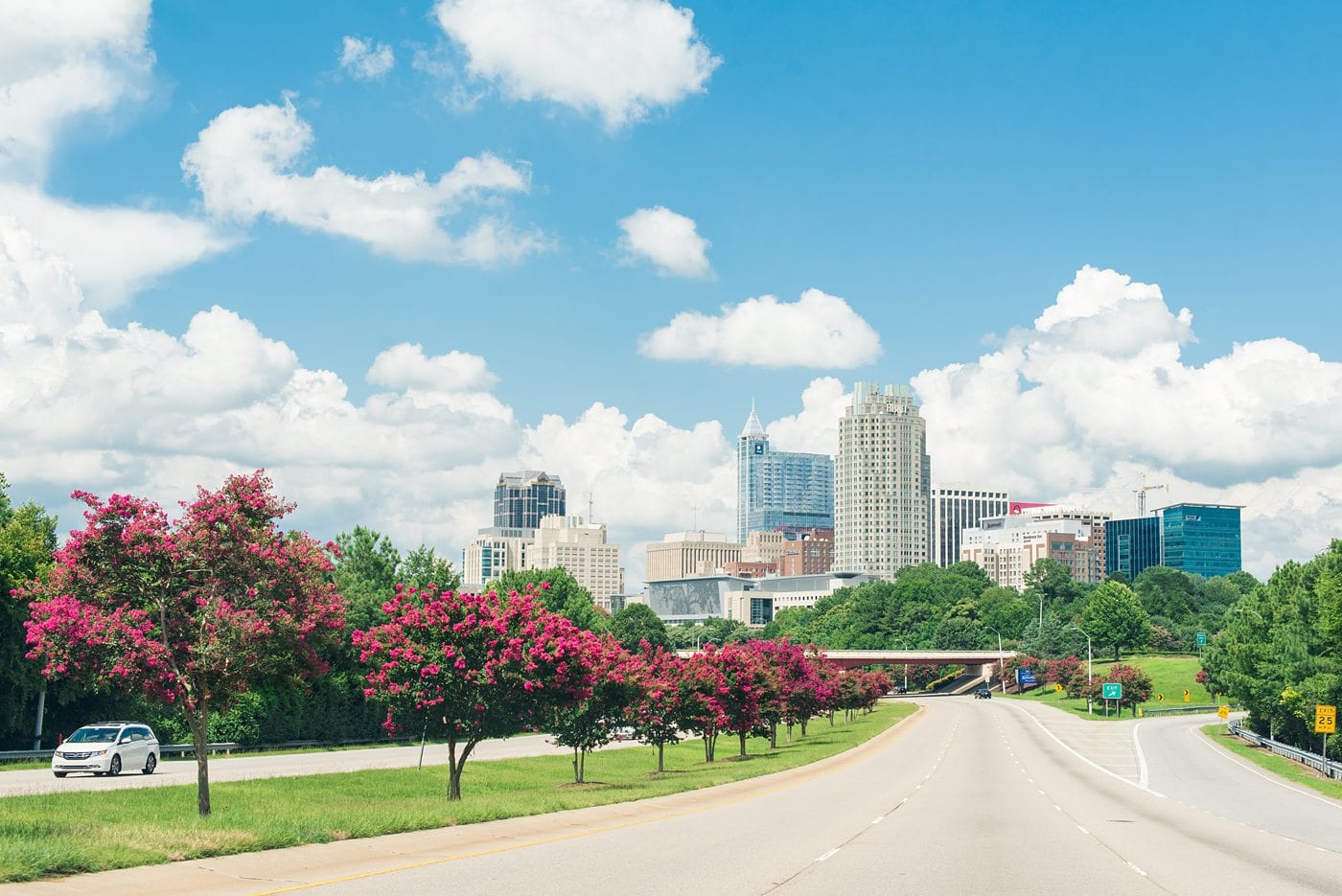 The Best Raleigh Has to Offer!
We love cuisine that excels: whether it's a pizza joint or a steakhouse, as long as it has a cohesive ambiance that gives us a strong sense of place. Experiencing it all as a couple in the area without kids is the perspective we can offer.
We are transplanted New Yorkers who have lived in New York City, Maryland, Washington DC, Wilmington, Central Florida, South Florida, and San Diego, collectively. And we've traveled all over the world so we're pretty good judges of authentic cuisine from different cultures too, short of being from every culture.
RELATED: Heading to Asheville, NC? Check out the 10 Best Things to do in Asheville!
Here's the best of Raleigh, according to us, sharing our thoughts on categories like where to get coffee, beers, New York-style pizza, cocktails, brunch, and more. A lot of the locations are downtown or just near downtown since that's where we live and explore. This means that many of the destinations are walkable if you're staying downtown after you arrive via road trip or to RDU airport, and others are just a 10 to 15-minute drive away.
Best New York Style Pizza in Raleigh
Hands down, the best New York-style pizza in Raleigh is at Oakwood Pizza Box, which is in the historic Oakwood neighborhood of Raleigh. Anthony, one of the restaurant owners, is from Long Island so he knows pizza.
Some non-NYers will try to tell you that Trophy Brewing Co. on Morgan Street has the best pizza. These people are not New Yorkers and don't know what they're talking about. (We're half-joking. But not really. Trust us – Oakwood Pizza Box is the closest you'll get to real New York pizza in Raleigh.)
Best Beers and Brews in Raleigh
Beer is obviously a very personal thing. The best beers in Raleigh could depend on if you like Pilsners or IPAs (west coast or American, New England, or Hazy IPAs, at that), etc. Dan likes West Coast IPAs or whatever's the closest to that taste where we're having a drink, and I like blondes or lagers.
We love Lynwood Brewing Concern, at the Loading Dock. Their beers are consistent and delicious. The atmosphere is fun too and there's plenty of indoor and outdoor space to enjoy.
This location doesn't have food but there's Wilson's right across the walkway/parking lot and you can get food from there and bring it into Lynwood. Or, you can eat at Wilson's Eatery, where there is also plenty of indoor and outdoor seating. They serve Lynwood beers.
There's another location of Lynwood, called Lynwood Grill & Brewing Concern. It's further away from downtown (but still in Raleigh on Grove Barton Road), but that's not our favorite location. The ambiance is much different. Our favorite is the one at 1053 E. Whitaker Mill Road (which is the address of the Loading Dock).
The two Trophy locations in Raleigh are usually a good place to meet friends, whether at their Morgan Street location or Maywood Street location.
By the way, if you live in Raleigh or nearby and love beer, go to Winston-Salem and follow our brewery tour. Wise Man in Winston-Salem is a favorite brewery, anywhere, not just in NC.
The Best Nachos in Raleigh
We crave Wilson's Eatery nachos over and over again! We get their pork nachos to split and it's perfect (which you can get without pork, too).
Pro tip: don't get them "to go," unless you're getting them to simply take across the parking lot. In other words, don't get them as takeout if you have to drive anywhere over five minutes away. This is because they'll get soggy and they just won't be the same as eating them onsite. But if you're eating them at Wilson's? They're the BEST!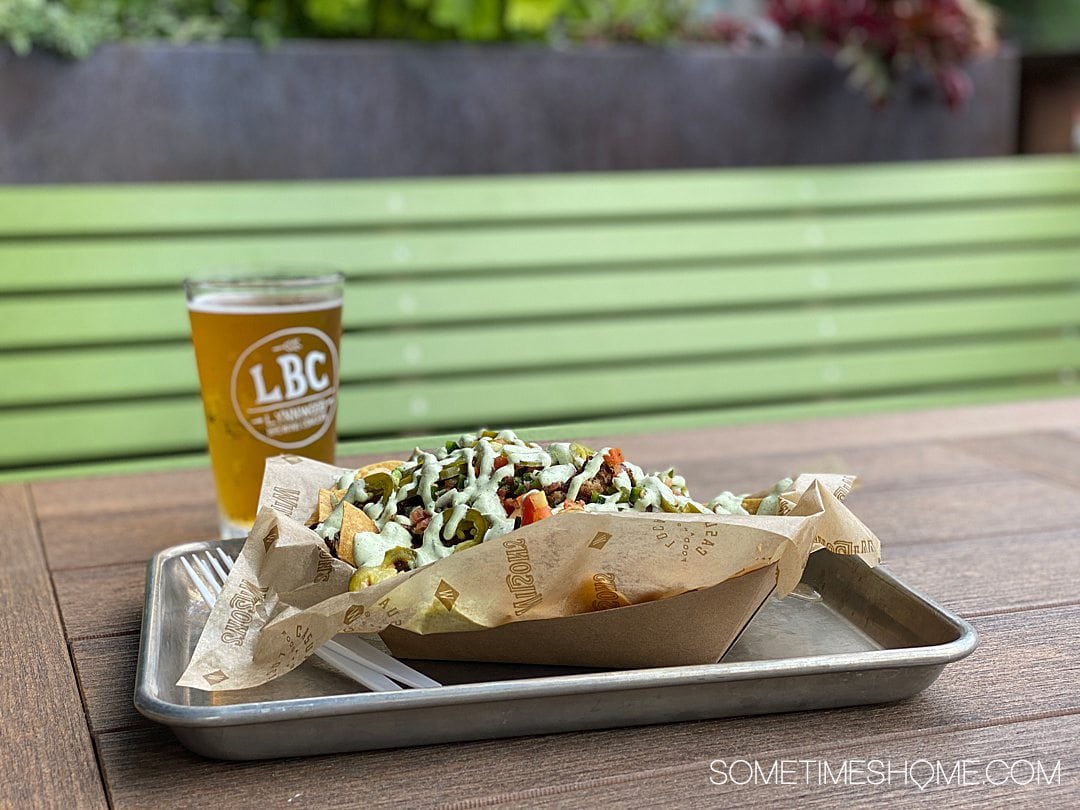 Best Brunch in Raleigh
Raleigh has good options for weekend brunch. We could use a few more choices for Saturday brunch, which are harder to find than Sunday options, which are much more common.
Here are a few great choices for sit down brunches, in both ambiance and food:
Whiskey Kitchen does a lovely brunch and has a huge indoor and outdoor space, with a great atmosphere. (We love some of their southern classics dishes!)
Humble Pie has a delicious casual brunch with plenty of outdoor seating. (They have indoor seating too but it's pretty dark in there. If you want to enjoy sunshine, sit outside.)
Taverna Agora, a Greek restaurant in downtown Raleigh, has a beautiful rooftop space and a good brunch.
Rosewater in North Hills is really good. Make a reservation if you can though we've had success as walk-ins too.
Tupelo Honey, at The Village, is a great place for brunch as well, either on Saturday or Sunday. They have great southern classics too, especially their yummy biscuits that they serve with Tupelo honey.
Best Pastries in Raleigh
The best pastries can be found at two places:
LucetteGrace, which has the best French style pastries and cakes, all made fresh, onsite. It's in the heart of downtown Raleigh, right behind Fayetteville Street, at 235 S. Salisbury Street. (And we've been to Paris a few times so we know a quality French pastry when we see and taste it.)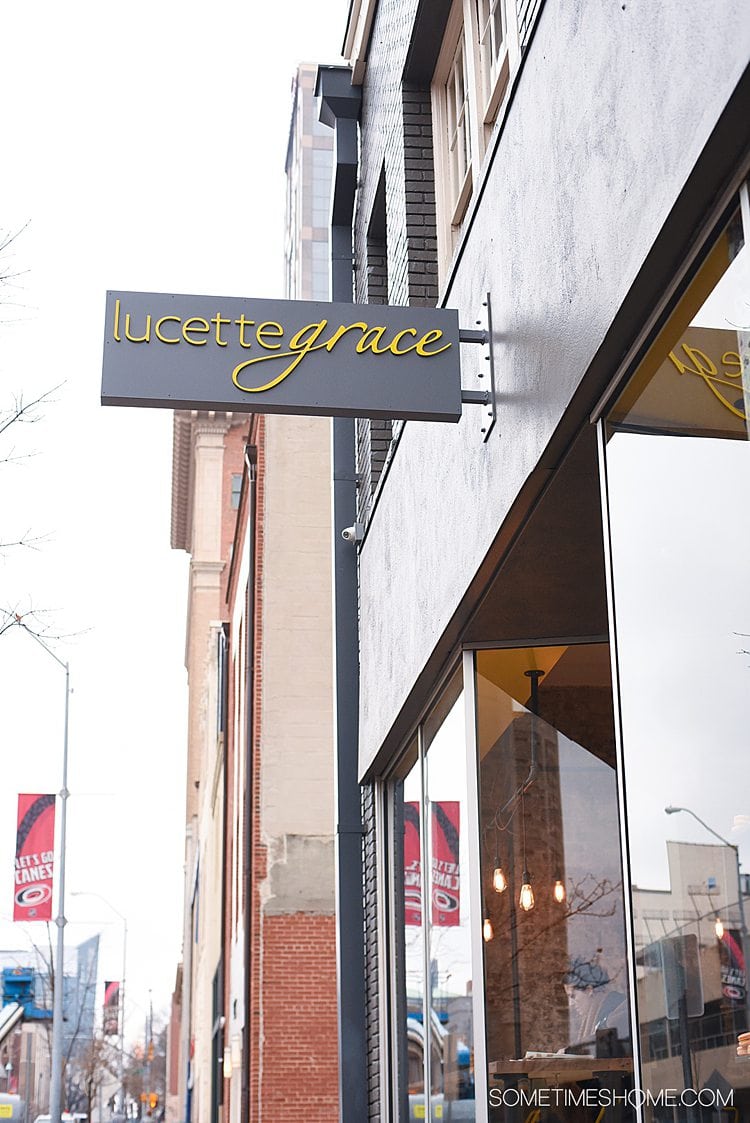 Layered Croissanterie, which is on the outside of downtown but if you live elsewhere in Raleigh you'd probably consider it downtown. It's right by the downtown Publix, off Peace Street, but on the other side of the street. They have the best flaky, buttery croissants around and several flavors to choose from. (Or of course you can opt for a classic croissant.)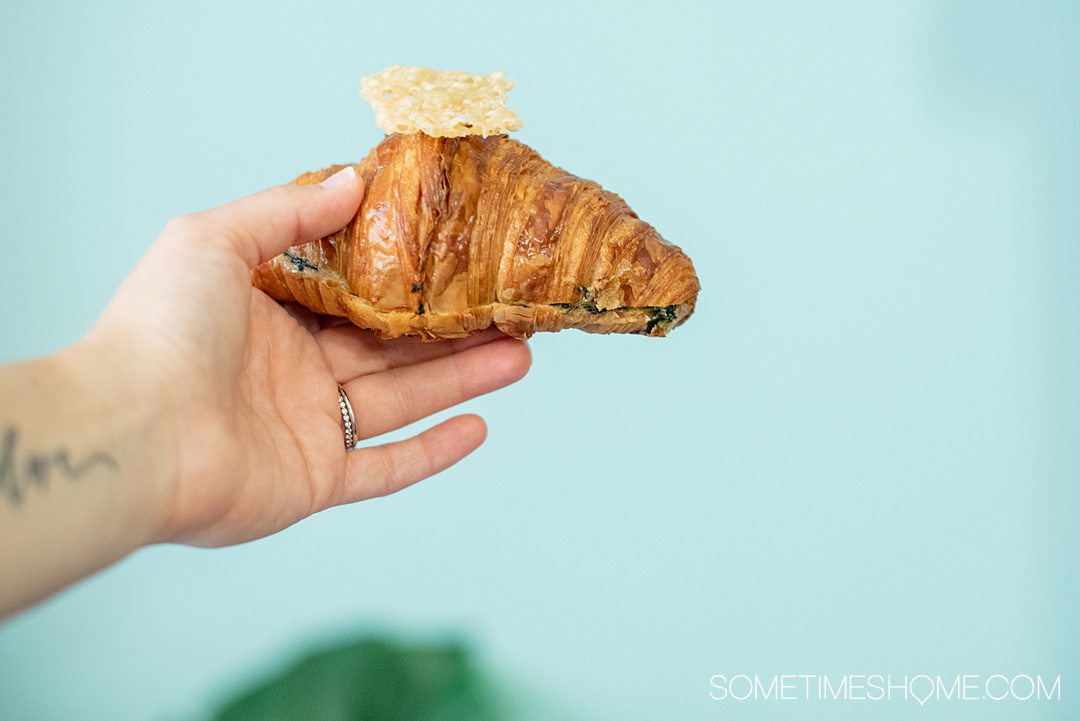 Best Sushi in Raleigh
The best sushi in downtown Raleigh is Sushi O and Sushi Mon. Sushi Blues is right across from Sushi O, but – in our humble opinion – it's not good. Any sushi place that puts cream cheese in half their rolls isn't great in our eyes. But, furthermore, their sushi rice just isn't great.
Maki (sushi rolls) is not popular in Japan, overall, like classic nigiri (fish on top of rice). And maki is what's most popular in America. I've had amazing true sushi in Japan, and some limited maki rolls in the country. Japanese sushi remains my standard to measure sushi against, especially the quality of sushi rice, which is a vital piece of the equation when making Japanese cuisine. So I keep this in mind when thinking of the best sushi in Raleigh.
Sushi O does a pretty good job. It's not the best we've ever had, but if you want sushi on a regular basis without paying Nobu prices, it's great. And if you live downtown it's a walk away, with indoor and outdoor seating and good service.
City Market Sushi may be a slightly more authentic sushi experience than Sushi O, but we don't love the dark indoor ambiance as much. The rolls are elevated from those at Sushi O, and you'll pay more for them.
Sushi Mon is a relatively new sushi place with the best pieces of sushi around. (Specifically sushi, but their maki rolls are damn good too.) They're located on Glenwood Avenue, but closer to Crabtree Valley mall area, which is halfway between downtown Raleigh and the airport.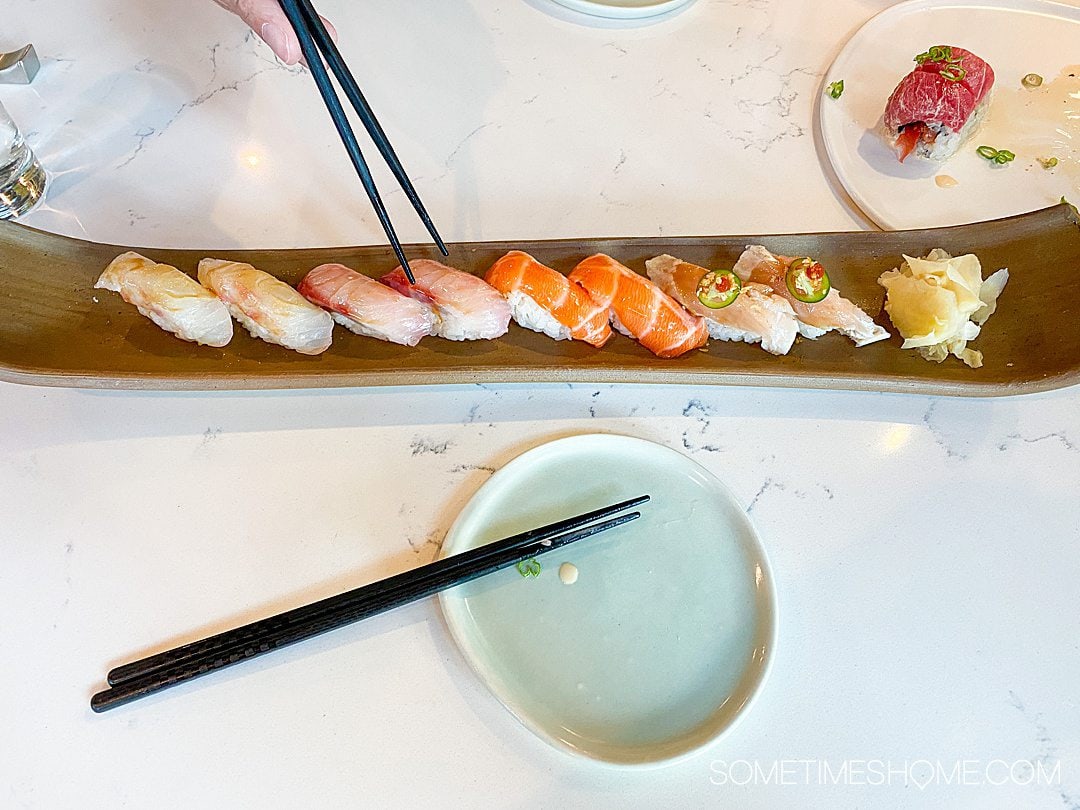 If you want a fun and unique sushi experience with some really creative maki roll options, try The Cowfish Sushi and Burger Bar, at North Hills (which is an area in north Raleigh, known for its shopping and restaurants). They have good sushi and a great ambiance, and a fun huge fish tank inside (yes, with real fish but not the ones you're eating, haha).
They have indoor and outdoor seating and it's a great option if you have some people in your party that want sushi but others who don't like it and want something like a burger or sandwich. Pro tip: if you're going on a weekend there will be a wait. Get on their waitlist ahead of time on their website or app.
Ajisai Sushi, at The Village (formerly known as "Cameron Village"), is also really good. They have indoor and outdoor seating, and we love their lunch specials, particularly their salmon sushi meal and yellowtail sushi meal.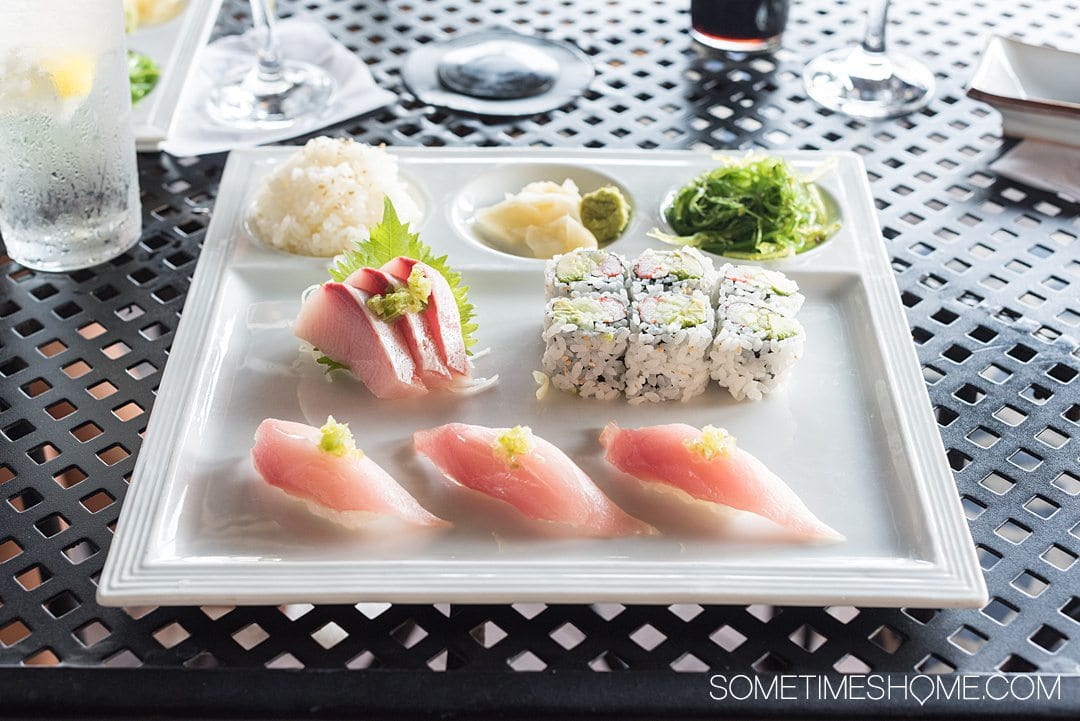 We also like to sit at the bar at O-Ku, in the Warehouse District in downtown Raleigh. We were there on opening day and we have been there a lot over the years. They have happy hour from Monday through Thursday at the bar, from 5:00pm to 7:00pm.
It is a beautiful restaurant and they have an expansive menu with Japanese food, not only sushi, and it's worth a try. They have outdoor seating but the indoor restaurant is the nicer experience.
Best Coffee in Downtown Raleigh
One of the nice things about downtown Raleigh, in particular, is you won't find a lot of chains. You can find two Starbucks on totally opposite sides of town if you look hard enough. (And you'd have to look really hard in the heart of downtown Raleigh; it's inside the Marriott on Fayetteville Street.) But otherwise, it's all local stuff!
The best coffee spots in downtown Raleigh boil down to two places:
Heirloom Brewshop: An Instagram-worthy coffee shop in the Warehouse District in downtown Raleigh, that's good for artisan coffees (think pour-overs and Americanos) and getting work down.
Morning Times: A more casual, down-to-earth coffee shop that's next to Raleigh Times, closer to Fayetteville Street.
Best Outdoor Dining in Downtown Raleigh
Mulino, an Italian restaurant, has an awesome outdoor area. So much so, we are not sure why anyone goes there and eats inside! The inside and outside are completely different environments, even though they serve the same food. They have delicious Italian food, including homemade pasta (a personal fave) and really good personal size pizzas (which are big enough for four people to split as an appetizer or split between two people as a meal).
We also love the outdoor area of Whiskey Kitchen, mentioned earlier in our best brunch picks.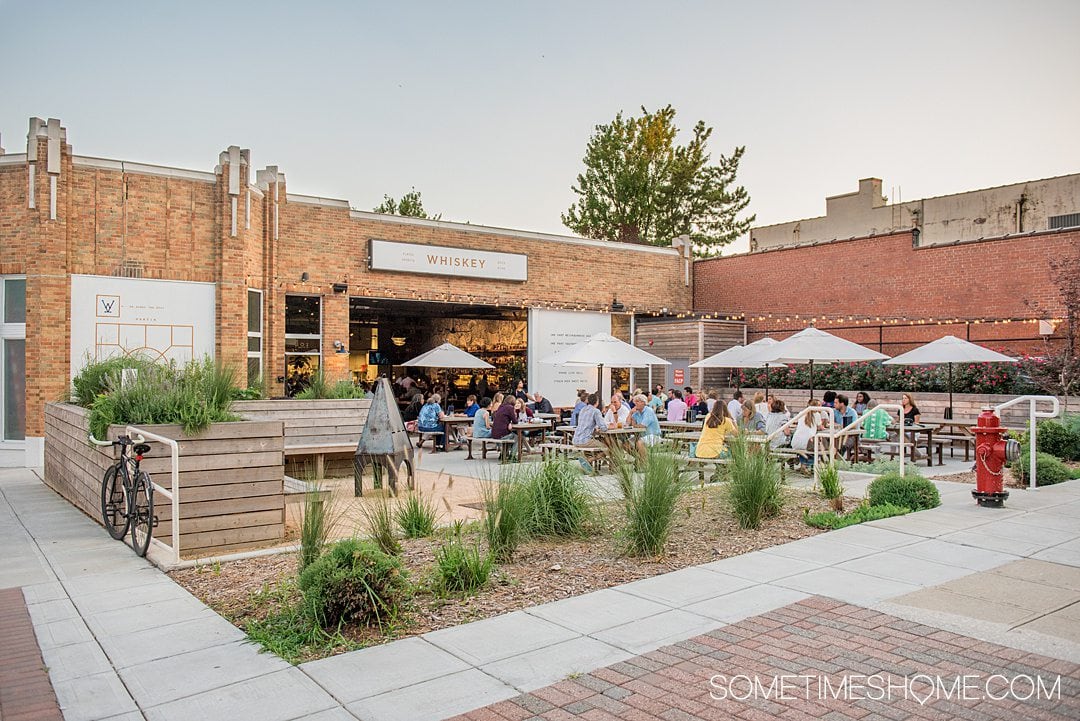 If you want a casual place to grab a bite to eat and a beer downtown, Raleigh Times is a City of Oaks classic. (Raleigh is nicknamed the "City of Oaks" if you're new to the area.) They have a ton of space inside, but they have a fun outdoor area too, both on the street level as well as some outside tables on their second floor.
Best Cocktails in Downtown Raleigh
We love a good cocktail! And Raleigh has so many great places to get drinks. Expect a good cocktail in Raleigh to cost between $10 and $16.
Here's where we go on a regular basis:
Best Bread in Raleigh
This may seem like a weird one to include, but fresh bread in Raleigh has become one of our favorite things about the city. We buy a loaf, get it sliced, and throw it in the freezer to use over time for the next month. It's the best. (I love carbs.)
That's why we love Yellow Dog Bread Company. Their pastries are good but the bread is the real star here. We love their Cheddar Jalapeño loaf. (Which we haven't been able to find anywhere else. We have found similar loaves, but not the same.) We also enjoy their cranberry walnut bread once in a blue moon and their sourdough on a regular basis. They'll slice any loaf for no extra cost.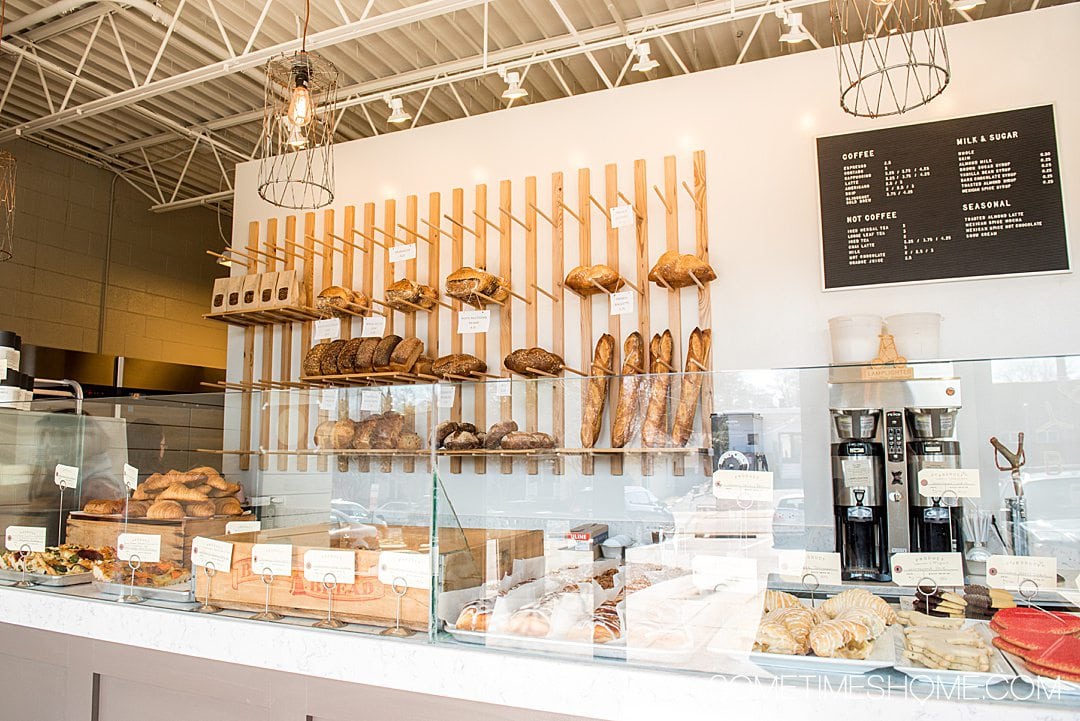 Boulted Bread is good too, and we love that local establishments like the Heights House Hotel serve their products. They have a Danish rye bread that's pretty good. You can also usually buy a half loaf at Boulted Bread if you ask. They don't have a slicer there, though, like Yellow Dog does, to slice your loaf up, so you'll have to do it the old fashion way at home, with a knife.
Best Barbecue in Raleigh
We wish the BBQ places of Goldsboro, NC, which is about an hour away, were closer. Alas, they are not. But these do the trick if you're craving barbecue in Raleigh…
The best of Raleigh for BBQ, downtown, is The Pit. Is it the tastiest we've ever had? No. But is it really good? Yes. And it's consistent.
We like to get takeout from there once in a while, or we'll take friends to the restaurants who visit from out of town and want to try North Carolina barbecue.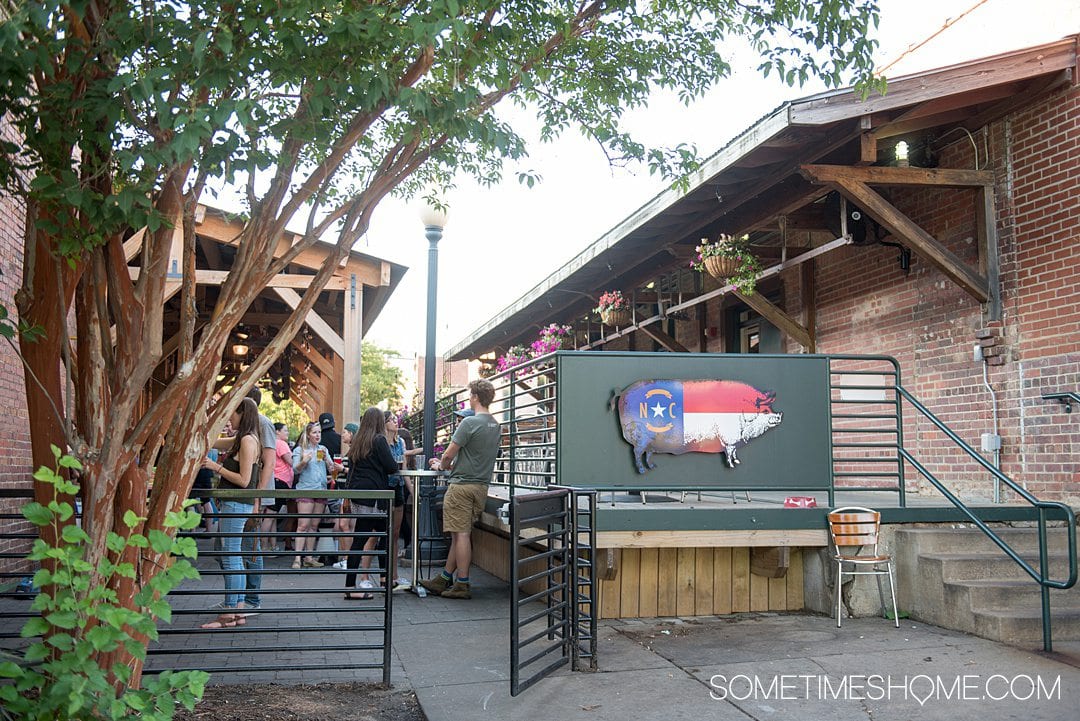 Sam Jones BBQ is also good and they have a fun casual dining spot with indoor and outdoor seating in downtown Raleigh, too. While The Pit is a sit-down restaurant with servers for each table, Sam Jones BBQ is a place where you order at the register then they deliver it to your table and find you from a table number.
Best (New York Style) Bagels in Raleigh
As a native New Yorker, I have an opinion about the best of Raleigh when it comes to bagels.
The best NY-style bagels are at Transfer Co. Food Hall, at Benchwarmer Bagels. But, I have to say – the menu isn't very "New York" in its options, nor is it trying to be. They have southern twists on sandwiches and creative cream cheeses. I've gotten their bagels to freeze for when we want to defrost and toast a bagel on any given day, but they don't last long in the freezer. (Maybe because there aren't preservatives in them, haha.)
Surprisingly, the best NY-style bagels in Raleigh are from Wegman's supermarket. These bagels taste closest to New York bagels (perhaps because they're a New York-based company) and they freeze incredibly well. There's a Wegman's off Wake Forest Road, near the Trader Joe's closest to downtown Raleigh.
Best Date Spots in Raleigh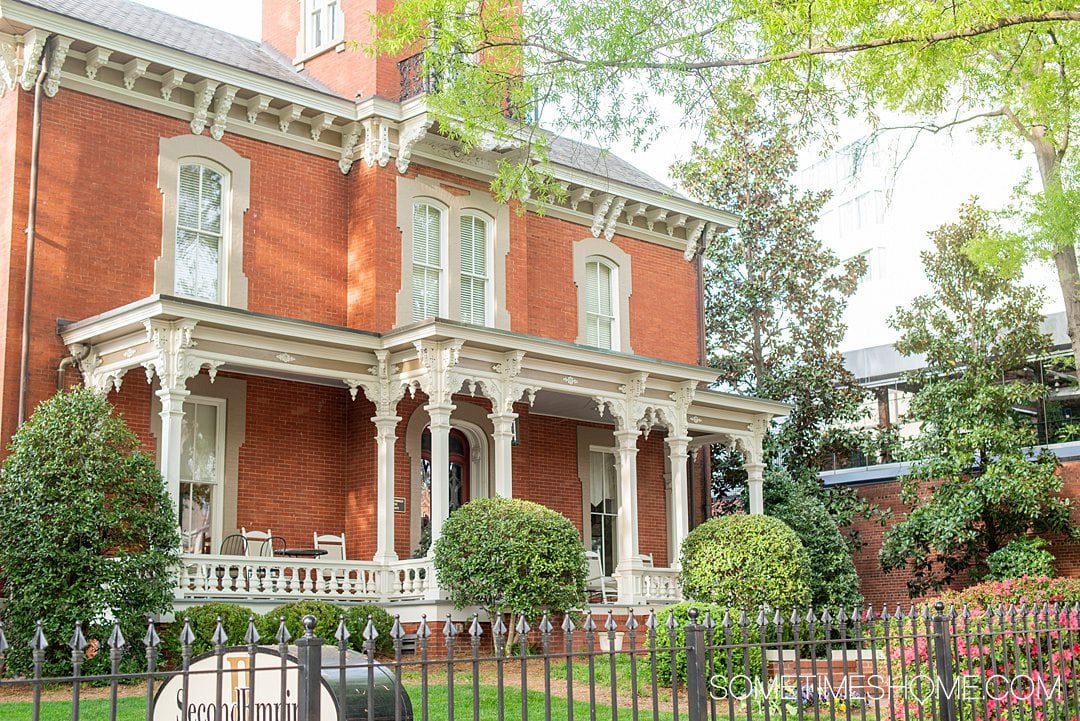 If you're a couple without kids or pets, nearly every night you go out is a date night! Haha! But there are a few special places we've been to when we want to feel fancy, that are great for date nights.
We love Oak Steakhouse, which is a place we often go to for great food and drinks, and a great atmosphere. They have an extensive menu beyond steaks and the food's always good. In fact, we love it so much we had our wedding dinner there, in their private room. (They have indoor seating, only.)
Stanbury is an excellent independently-owned restaurant that serves small plates. They have a fun, almost "woodsy" bohemian vibe inside. (They offer indoor seating, only). We love their lamb tartare and grilled salad plates when they're on their rotating menu, amongst a slew of other options that are always yummy.
Second Empire Restaurant & Tavern, housed in a historic downtown mansion, is a lovely place to have a memorable date. It's also the kind of date spot you can get dressed up. Their tables are covered with white tablecloths and they have excellent service. Additionally, the prices are reasonable – they're not any more than Oak Steakhouse, for example. The ambiance is very different though. The restaurant that's on the main level of the house is a little more upscale than the tavern downstairs, which is slightly more casual.
Lastly, we love our date nights at Vidrio. We went there the night we eloped (we eloped, then had a celebration dinner months later at Oak Steakhouse) and it's an absolutely beautiful restaurant. They have indoor seating, only, but their bar area has huge windows that open to the sidewalk. We have to admit their food is inconsistent, but when it's good, it's good.
Best Photography Spots in Raleigh
Wondering where the best places to take photos in Raleigh are? We have over a dozen for you to try out in a dedicated post on Raleigh's Best Photography Spots.
Best Hotels in Raleigh
Visiting Raleigh for an event, a festival or to see if you want to move here? Welcome! You're going to need a place to stay…
We recommend the following downtown Raleigh hotels:
Longleaf Hotel: this is the best hotel if you want some local
Heights House Hotel: Love staying in boutique hotels? This historic nine-room hotel was completely restored by a couple with a fantastic vision and passion for the neighborhood where it stands.
Marriott on Fayetteville Street: If you're like us and you love using Marriott points, then try the Marriott on the main avenue in the heart of downtown Raleigh.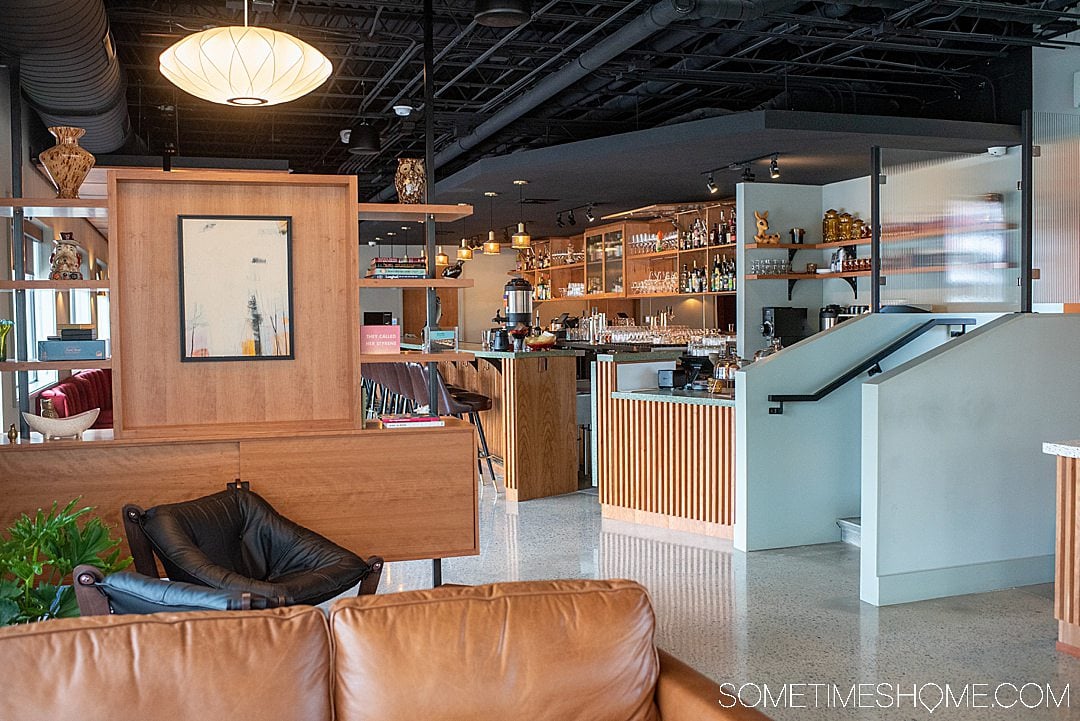 Best Place to Get Raleigh Gifts
If you're looking for some keepsakes from Raleigh, North Carolina, to bring home or gift to a friend, Deco is the place to go. It's in the heart of downtown Raleigh, on Salisbury Street (right near Raleigh Times and on the same street as LucetteGrace pastry shop). They support independent artists and have many unique products in the shop. They have assorted other fun items too, including jewelry, cards and kids items.
Related Posts:
THINGS TO DO IN HILTON HEAD ISLAND
44 OF THE BEST PLACES TO VISIT IN THE USA
Mikkel Woodruff co-owns and operates Sometimes Home (https://sometimeshome.com/) and Sometimes Sailing (https://sometimessailing.com/) travel websites with her husband, Dan. They call the east coast of the United States home and travel domestically and internationally, motivating people to seek new experiences and explore new places through inspirational content.